AutoCrib
Responsive Website
Delivering an online experience for a brand that can deliver literally anything.

Background
Industrial vending is a real solution for a multitude of different industries. It's a system that automates the checking in and out of items to make inventory management more efficient. Instead of candy and soda, AutoCrib's machines dispatch nearly anything you can think of, from power tools to electronics to guns.
In order to elevate beyond their current set of customers and reach new audiences, AutoCrib turned to us for a website redesign. We quickly realized that the new site should do more than simply serve as a product display - it should have a personality befitting AutoCrib's wholly unique offering of vending for any occasion.
A Tactile Experience
We built a site that mirrors the real-world experience of interacting with AutoCrib products. Let's face it - it's fun to see circuit breakers, rain jackets and cupcakes delivered via a vending machine. Our bold homepage invites users to "Pick anything, we can vend it," then backs that claim up with a revolving grid of items for users to click on.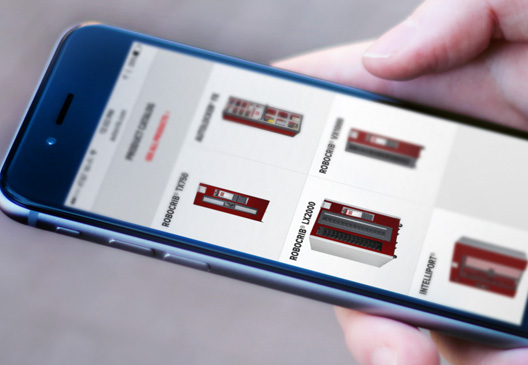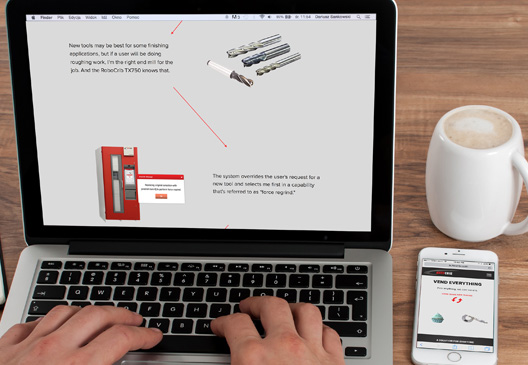 Engaging with Personality
Through a mix of video, clever copy and real AutoCrib product visuals, the website tells compelling first-person stories from each item's perspective. Our experiential, responsive design opens a panel with depth beneath each square, allowing the stories to inspire bigger thinking.
Data Refined
Beyond the homepage, the site compartmentalizes AutoCrib's full product line with clean design and visuals. The new AutoCrib site is an out-of-the-box solution for a very in-the-box company.